Story of a Bottle

Story of a Bottle –

Barkhouse Bros.
& Co. Gold Dust Kentucky Bourbon
49er Bottle Jamboree
20 March 2016

In preparation for the
Holabird Americana "49er Bottle Jamboree" Auction
at the
FOHBC 2016 Sacramento National Antique Bottle Convention & Expo
, we will be featuring some of the bottles and other pieces in the auction. According to Fred Holabird, the auction will be live with four (4) different live auction/internet bidding platforms. Here is an interesting email I received recently.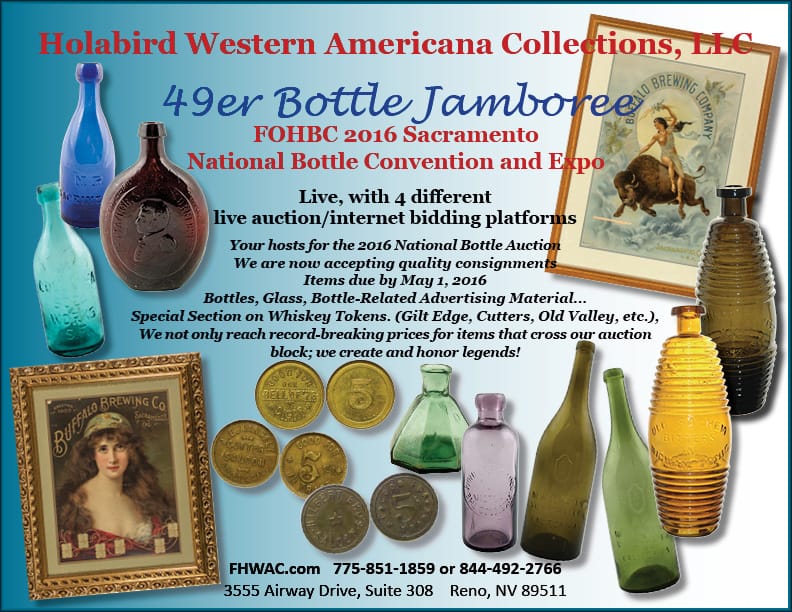 I found your article when I was looking for information on an old bottle I purchased yesterday. I hope that you might be able to point me in the right direction. The bottle is embossed with the following words: Trade Mark Barkhouse Bros. & Co. Gold Dust Kentucky Bourbon, John Vanbergen & Co Sole Agents. I read an article that said a bottle like this sold for $28,000 in 2011. Do you know who I should speak to in regard to my bottle? Any suggestions would be greatly appreciated.
Read:
Rare Barkhouse bourbon bottle – one of 'finest' – brings $28,000 at auction
I contacted Richard Siri (Show Chair) and Eric McGuire (FOHBC Western Region Director) for an appraisal based on the images. Here is their response:
Ferd, I ran this bottle by Richard Siri and we are in complete agreement that it should bring between five to eight thousand. If it goes runaway it might go to ten thousand, but that should be absolute max. The selling point that must be made to the owner is that anyone who would be willing to pay top dollar will be in attendance at the Sacramento show. There is no better venue for selling it. Then, of course, there will be the ability to market it through the FOHBC website.
[Editor Note: Eric also was curious about the mouth appearance which will be reviewed upon bottle receipt at the auction house]
Thanks to Peachridge Glass for this article and don't forget about the upcoming FOHBC expo in Sacramento - rs -