TeaKettle Old Bourbon
I believe that one of the best whiskey bottles which typifies the old west is the Teakettle. When one considers all that these bottles have going for them, ie: Fantastic full face embossing, a picture, and often crudity, and nice color, these bottles simply have it all...except for rarity.
When compared to other collectibles, they really are "rare". If one goes by the examples available, they are also "rare". Other than the Gold Dust fifths, the Teakettle is a bottle which seems designed to have everything a collector, 130 plus years later, would find attractive. There are whiskey collectors who have a "run" of these, and even those who have moved their whiskey collections along - typically hang on to a teakettle or two. I am one of them as even though the western bitters are a strong passion for me, I cannot ignore the beauty of the Teakettle.
Can you imagine the early days of digging in Nevada where these appeared to be everywhere? Were it not for Virginia City, the epicenter of these fifths, the Teakettle might be in the top 10 or even top 5 of western whiskeys. It is only the numbers known keeping them from the top of the list. They are definitely in my personal top 5. Let's hear it for the Teakettle! Dale M.
Thanks to Dale M and Old West bottles for the pictures and text - rs -
How about this smokin' Teakettle that was found under a house in Virginia City
This beauty has just about everything going for it - including the original label!
Thanks Bruce for the fantastic pictures
From Lou Lambert over at Old West Bottles
Without any question the Tea Kettle Bourbon bottle is one of the most beautiful, highly sought after Western 5ths there is among collectors. These bottles come in a wide variety of shades of amber colors ranging from yellow to chocolate. Their also known in shades of old amber/olive, green and even pale steel blue aqua. Their primarily found with an applied top but the latest version made comes with a tooled top. The tooled top bottles are very rare and most have annealing flashes/cracks due to the poor annealing character of the glass used to make these later bottles
The wholesale liquor firm of Shea, Boqueraz & McKee were the West Coast agents for the Kentucky distilled brand. They
were located at the s/w corner of Front & Jackson St. in San Francisco California from 1871 to 1887. The bourbon was imported from the
distillery in barrels and bottled in S.F. The West Coast liquor firm
had a special 5th size bottle and mold
made by the San Francisco Glass Works to contain their product for the trade.
You can bet the quality of this bourbon was good because of the high cost of having a private mold bottle produced opposed to a lesser expensive more available
generic version. It's believed that the cost of such a bottle often exceeded the cost of producing the liquor it contained
The period between 1870 to about 1885 saw the most beautiful graphic hand blown glass whiskey 5th
bottles ever produced anywhere in the world by this glass works. It were almost as if the liquor dealers in the city at that time were all trying to out do each other to see who could produce the nicest looking bottle for their product with the glass works only being a very short distance.
Ways to advertise in those days were limited with one of the most effective being to have an embossing bottle bearing the dealers name. The picture below is of a 1870s barrel tag from the distillery.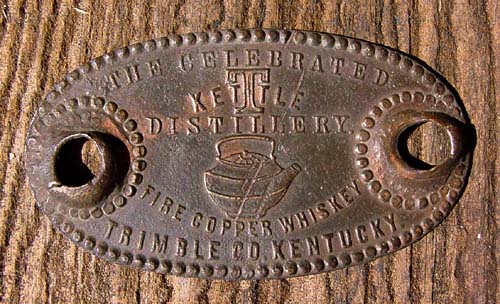 This was a very popular brand among miners and lumbermen in certain regions of Northern California & Nevada as evidenced by the number of intact and broken bottles that have come from those areas over the years. This was high quality, expensive drinking whiskey for those who could afford it. The cost for a bottle of this whiskey was equal to a days wages for the average working man.
I can only imagine some of the comments that must of been made when this liquid gold bearing the logo of a mountain tea-kettle was being consumed. Virginia City Nevada was especially popular for this brand as most known examples have come from this area. A bottle book claim that hundreds of these were found in the VC area is over exaggerated as there's likely less than 200 intact specimens known in any condition.
Years ago a saloon privy on the divide between Virginia City and Gold Hill was dug that contained twenty seven whole examples and dozens of broken ones. I remember attending the Reno bottle show in 1972 and seeing the majority of them on display all lined up on a table, what a line-up !